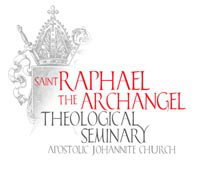 St. Raphael the Archangel Theological Seminary provides an eight-semester distance education program towards a Licentiate of Sacred Theology (STL) and Ordination to the Apostolic Priesthood in a Gnostic Christian tradition.
The Priesthood formation program we offer is internally created and designed for use by The Apostolic Johannite Church (AJC) only. It is intended for only those who wish to pursue a vocation with the AJC. It is not a conventional college based program, nor is it recognized or endorsed by any other organization, religious, educational or governmental.
At its heart, the Formation Program exists to provide the basic foundation that we require for those seeking to serve as clergy with the Apostolic Johannite Church before being ordained. It is not meant as program for anyone seeking a general religious education program nor is it intended for those who are seeking an exclusively contemplative path.
In addition to providing the aforementioned foundation, it is a time for mutual reflection and evaluation in order to assist in better defining and developing the vocation of the individual seminarian.
Overview of the program
Academics largely take the form of readings, essays and discussion, and the course load is structured in such a way as to allow students to continue full time employment or studies.
Additionally, the process of priestly formation takes place in the context of practice: community volunteer work, journalling and creative work, personal spiritual practice and ongoing dialogue between the seminarian and the Directors.
While all coursework can be completed via distance, attendance at an annual Conclave is required at least once prior to ordination.
Academic Overview – Year One
First Semester
ST1 – The Seven Sacraments: Matter, Form, Intention
LP1 –  the Liturgical Year
HC1 – The Origins of Scripture
HG1- The Origins of Scripture
Second Semester
MS1 – Ethics in Ministry
LP2 – The History of the Divine Office
HC2 – The Evolution of Holy Orders in Christianity
HG2 – Holy Orders in Gnosticism
TS1 The Johannite Tradition
Year Two
First Semester
ST2 – Baptism
LP3 – Practical Elements of Conducting Liturgy
HC3 – Ecumenical Councils
HG3 – Gnosticism in Early Christianity
TS2 – Christology
DF1 – The Divine Feminine in Christianity
MS2 – Spiritual Guidance
Second Semester
ST3 – Matrimony
HC4 – Monasticism
HG4 – Gnosticism in the Middle Ages
TS3 – Soteriology
MS3 – Pastoral Care
DF2 – Divine Feminine in Gnosticism
MSP – Psychological First Aid
MSR – Skills for Psychological Recovery
Year Three
First Semester
ST4 – The Eucharist
HC5 – The Reformation
HG5 – The Restoration
TS4 – Eschatology
DF3 – Divine Feminine in the Old Testament
MS4 – Difficulty and Danger on the Spiritual Path

Second Semester
ST5: Reconciliation
ST6 – Confirmation
HC6: The Ages of the Church
HG6: The Modern Gnostic Churches
TS5: The Communion of Saints
DF4 – Feminist Theology
MS5 – Ecumenism and Interfaith
Year Four 
First Semester
ST7 – The Theology of the Priesthood
ST8 – Unction
LP4 – Other Rites of the Church
LP5 – Lex Orandi, Lex Credendi
MS6 – Spiritual Direction
DF5 – Female Mysticism
Second Semester
TS6- Theosis
MS7: Spiritual Journey
MS8: Ministry Capstone
DF6 – Sophianic Traditions
AP: The Eucharist
AP: The Priesthood
| | | |
| --- | --- | --- |
| Stream | Number of courses | Notes |
| Sacramental Theology (ST) | Eight | All Eight required |
| Liturgical Practice (LP) | Five | All five Required |
| History of Christianity (HC) | Six | Origins of Scripture and Evolution of Holy Orders required |
| History of Gnosticism (HG) | Six |  Origins of Scripture and Holy Orders in Gnosticism |
| Ministry Studies (MS) | Ten | All Ten Required |
| Theology (TS) | Six |  The Johannite Tradition and Soteriology |
| Divine Feminine (DF) | Six | Divine Feminine in Christianity, Divine Feminine in Gnosticism |
One stream is selected and completed by the seminarian as a major or concentration- all courses in the chosen stream must be completed, with the remaining non-mandatory streams requiring two each
As a part of the process of Formation, seminarians are expected to enter the Minor Orders of the Church (Ostariate, Lectorate, Exorcistate and Acolytate), assist in liturgy and participate in parish life (where able).
To see the Stages of the Formation Program laid out in full, visit our Seminary Course Map
Applying for St. Raphael the Archangel Seminary
The Seminary accepts applicants in two intakes per year, at the Feast Days of the two Sts. John; June 24th and December 27th.
1. The Seminary accepts adult students regardless of gender, sexual orientation, or religious background
2. Prior to applying, applicants must read the website of the Apostolic Johannite Church thoroughly.
3. Applicants must complete "Introduction to Johannite Concepts and Theology" through our online Johannite School.
4. When you have reviewed our website and completed the "Introduction to Johannite Concepts and Theology" course, please write to [email protected] for an Application package. You must have this package in order to apply.
5. Should you have questions or need more information, this can be provided by writing to [email protected]
6. The full process for completing and submitting an application is described in the package, but candidates will be required to provide:
Religious Journey Essay (as described within the application package)

Resume

Official Transcripts of relevant degrees/ coursework/ previous Seminary education

Reason for Applying Essay (as described within the application package)

Ministry Essay (as described within the application package)

Photocopies of certificates for all that apply: Baptism; Confirmation; Holy Orders

Clear and Legible photocopy of your current Driver's License

Two passport-sized current photographs of yourself

Completed Keirsey Temperament Sort II test.

A national criminal background check from a recognized government agency for your country of residence and any countries in which you have lived.

Two interviews with AJC personnel

References for review and contact.
7. There is no tuition for seminarians, but a non-refundable registration fee of $99 must accompany a completed application.
8. As a part of the application process, candidates will be required to complete an interview with two representatives of the AJC. You will be contacted to arrange these interviews.
9. Personal information (name, address, etc.) obtained during the application process (including the application itself) is securely stored and never released without your permission unless it is required and requested by a lawful warrant or court order.
"Bookshelf" By Stewart Butterfield (flickr) [CC-BY-2.0 (http://creativecommons.org/licenses/by/2.0)], via Wikimedia Commons