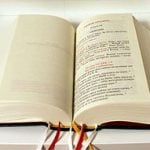 The Office of the Hours
The Office of the Hours of the Apostolic Johannite Church. Made available online for use in your daily practice. The readings from the four week cycle are automatically included in the selected office.
The Templar Rosary
The decade meditations and prayers in this practice are designed to recall and contemplate the history of the Order of the Temple from the perspective of the legends of the Johannite Church, from St. John and the Sovereign Pontiff Theoclete, to the Sovereign Pontiff, Dr. Bernard-Raymond Fabre-Palaprat.
We hope this practice will become a valuable tool in your spiritual practice, whether you're a Johannite exploring the Templar current within the Johannite Church, a member of a Templar Order or a solitary practitioner.
The Levitikon: The Gospels according to the Primtive Church translated by Donald Donato with an introduction by Jordan Stratford
A must have for student of the Western  Mystery Tradition. Available for the first time in English.