The Primate of the United States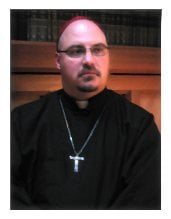 His Grace,
The Most Reverend
William Behun, Ph.D, Ep.Gn
In Ecclesia Mar THOMAS
Archbishop and Primate of the United States of America,
Archbishop of Wisconsin  
Originally consecrated as a Bishop for another denomination, His Grace affiliated with the Apostolic Johannite Church in 2004.
His Grace has devoted his life to the pursuit of the Sacred Flame. An accomplished initiate of several groups and Orders, His Grace wastes no time in making clear and accessible the mysteries and timeless wisdom of the Gnostic path.
A true scholar, His Grace earned his Ph.D from DePaul University in the United States, in addition to degrees in Fine Arts. He currently teaches Philosophy as a Visiting Lecturer at a major University.
His Grace's passion is not limited to the spiritual, he is an accomplished brewer, enjoys theatre and a wide range of cultural pursuits.