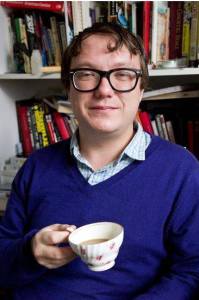 Jonathan Stewart is a Montreal based writer and editor, originally from Canada's East Coast. He grew up on Prince Edward Island and attended university in Halifax, Nova Scotia, and moved to La Belle Province in 2006. After four years of writing 9-5 in a corporate environment he's now working in the terrifying land of freelancing.
He's long had a passion for all things Gnostic, esoteric, and mystical, some of this started with him reading Phillip K. Dick when he was 12 and moving straight onto the Nag Hammadi Library when he was way too young to understand any of it. He came across the AJC in 2011 and has been in love with the welcoming and supportive Johannite community ever since.
He joined the church in 2013, was admitted to the minor orders in 2014, and entered the AJC's seminary in 2015.
Meditation is a particular interest of Jonathan's and he's been meditating in both Buddhist and Christian traditions since he was a teen–this has come in handy as he married a Buddhist and is happy to have common ground in his interfaith marriage. He's also a Martinist having joined the Ordre Martiniste Opératif Au Québec in 2011. His other interests include theatre, playing in indie rock bands, playing with his cat, and (even though he spent his 20s promising himself he'd never get into it) yoga.