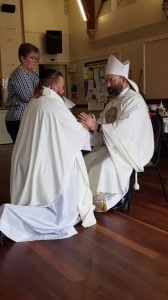 After fifteen years of service as both priest and bishop, the Most Rev. Tim Mansfield will be retiring from the role he pioneered, that of Bishop of the Diocese of New South Wales on January 1st 2023. 
Widely respected and loved within our community as an engaging teacher of Gnosticism and Contemplative spirituality with a pastoral heart and great humour, the Most Rev. Tim Mansfield has served as a pillar of the AJC throughout his time, with significant contributions that will continue to flourish beyond his initiative. 
From Johannite School, to the Office of the Hours, the revamped Seminary site and curriculum, to everyone's favourite guest on Talk Gnosis, more times than anyone can count- enumerating Mar TImotheos' contribution to the spiritual life, structure and work of the Apostolic Johannite Church is a significant task in its own right. 
The Most Rev. Tim Mansfield put in his request to change to Retired status as a result of his own discernment on his own spiritual path, well-being and the effects that the duty of leadership bring to each of these. Knowing these challenges and effects all too well, the Patriarch of the Apostolic Johannite Church has approved this change in status. 
As is its practice, Retired Clergy remain listed with the Apostolic Johannite Church as appropriate to their Order, with title confirmed by the Patriarch, and may undertake sacramental work with prior authorization
On behalf of a grateful Church and for his many years of selfless service, pastoral skill and a seeker's heart, the Patriarch of the Apostolic Johannite Church will confirm Mar Timotheos as Bishop Emeritus of the Diocese of New South Wales effective January 1st, 2023 and His Excellency will continue to advise the Patriarch in the years to come, in addition to remaining a dear friend and brother. 
Until the time that the Patriarch and Apostolic Council confirms a successor, the Rev. Fr. Brenden Humberdross will serve as Episcopal Vicar for Australia on behalf of the Patriarchate.