The Apostolic Johannite Church is proud to present the nineteenth annual AJC Conclave – May 17th – May 22nd in Portland, Oregon
Each year the people of the AJC, friends and family gather together to socialize, learn, build our skills and deepen our community. It is an amazing opportunity for spiritual growth and insight to modern Gnostic practice.
Conclave offers lectures, workshops and panel discussions selected to develop ministry skills, support the work of church leaders both lay and ordained and deepen and enrich the spiritual lives of attendees. Conclave is also rich in social time, time to eat, talk, pray and practice together. It's like a retreat and a conference all rolled into one.
As always, we welcome you, no matter who you are or what your spiritual path, to join us for this unique week. You can come for all or part and participate as much or as little as you'd like. However you choose, we welcome you into our household.
Keynote Speaker: Stephen O'Shea
Toronto-born author and journalist Stephen O'Shea moved to France in the early 1980s. There, he took up journalism, shortly after completing postgraduate degrees in politics at the Université de Paris 1 (Pantheon-Sorbonne) and the prestigious Institut d'Etudes Politiques de Paris. In 1989, Elle magazine relocated O'Shea to New York to be a senior features editor of their American edition.
In 1993, he returned to Paris, where he worked as Variety's film critic, and published articles on French culture and politics for American, British, French, and Canadian magazines, including The Observer, The Times of London, Harper's Bazaar, Interview, Allure, and Mother Jones.
To research The Perfect Heresy, O'Shea moved to Perpignan in southern France in 1997, where he spent two years immersing himself in Cathar lore. In 2011, he continued his exploration on the Cathars and the Inquisition in France with the Friar of Carcassonne. In addition to The Perfect Heresy, O'Shea is also the author of the widely acclaimed Back to the Front (Walker & Company, 1997), a hiker's meditation on the trenches of World War I and most recently, The Alps: A Human History from Hannibal to Heidi and Beyond. Stephen O'Shea currently lives in Providence and has two daughters, Rachel and Eve,  (via Bloomsbury Publishing)
The Rev. Dr. Juliana Eimer Memorial Lecture: M. Isidora Forrest
M. Isidora Forrest has been devoted to Isis ever since the Goddess told her, in no uncertain terms, that she was not yet ready to be Her priestess. (Isidora respects a Goddess Who doesn't coddle.) More than twenty years—and a lot of research, ritual, agony and ecstasy—later, Isidora has earned the title of Prophetess in the House of Isis. She is also a priestess of the international Fellowship of Isis, a Hermetic adept, a maenad for Dionysos, and a founder of the Hermetic Fellowship, a non-profit religious organization devoted to spiritual development through ritual and education in the Western Esoteric Tradition (via goodreads).
In addition to Isis Magic, she is the author of Offering to Isis: Knowing the Goddess through Her Sacred Symbols, and a contributor to the Golden Dawn Journal series of books edited by Chic and Tabatha Cicero. Isidora has been a speaker at a wide variety of local and national festivals, events, and conferences, from local Pagan Pride Day to Fellowship of Isis gatherings to Seattle's Esoteric Book Conference. She lives and works in the not-at-all-Egypt-like climate of Portland, Oregon with her husband, author, and editor Adam Forrest, a fierce black cat name Korê, and both a Temple of Isis and a grape arbor sacred to Dionysos in the backyard.
The Rev. Fr. Joseph Wolf
A spiritual explorer who was drawn to Gnostic Spirituality first through the pioneering work of the psychologist Carl Jung, Fr. Wolf has spent several decades exploring a wide range of esoteric and spiritual paths including the Hermetic Order of the Golden Dawn and Angelic Evocation.
He began attending services with the Ecclesia Gnostica several decades ago and in 1982, entered the path of priesthood formation culminating in his ordination to the Priesthood in 1991. He is also the founder of the Alexandria Institute of Metaphysical Arts which works to promote individual-centered spirituality. He is the author of several books including The Illuminated Circle (Four Volumes) and Angels at your Doorstep which are guides to exploring the practice of Angelic Evocation.
His Eminence, Iohannes IV, the Patriarch of the Apostolic Johannite Church
Originally consecrated on December 22nd, 2002 as Bishop of Alberta, Iohannes IV (Shaun McCann) was shortly thereafter elevated to Patriarch and Primate of the Apostolic Johannite Church and has served faithfully in that role since July 23rd, 2003.
Since that time, Iohannes IV has led the Church through over a decade of growth and development, expanding the Johannite Church to numerous centres in five countries, writing the All Saints Accord, overseeing the translation and publication of the Levitikon: The Gospels according to the Primitive Church, and sending representation to the Parliament of the World's Religions, as well as directing the formation of numerous clerics and lay leaders, and presiding over a decade of Conclaves, the annual gathering of Johannites from around the world.
His Grace, Dr. William Behun, Primate of the United States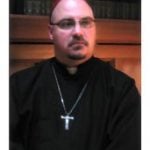 His Grace Dr. William Behun is Archbishop of Wisconsin and Primate for the United States of America for the Apostolic Johannite Church.  He received his Ph.D. in philosophy from De Paul University, and is the author of The Historical Pivot:  Philosophy of History in Hegel, Schelling, and Hölderlin as well as articles on a wide range of philosophical topics.  In addition to his duties within the AJC, His Grace also teaches philosophy in the Chicago area, specializing in Ethics and the History of Philosophy.  
Most recently his article "The Apocalypticism of Joachim of Fiore and the Western Mystery Tradition" appeared in the Journal of the Western Mystery Tradition
 
Monsignor Scott Rassbach
Scott Rassbach was born and raised in the wilds of Wisconsin, among lumberjacks, farmers, hunters and fishermen. His early years taught him the ways of nature and the land. From these earthy beginnings, he developed an abiding interest in the esoteric, religious, and mystic topics of the world.
He has taken and is pursuing degrees in Freemasonry, Martinism and the Ordo Sacrae Flammae. He's also something of a scholar on Philip K. Dick, having studied him extensively in college while attaining his Bachelor's of Science from UW-Madison. He's also quite fond of H.P. Lovecraft. He is an avid reader, writer, and poet.
Ordained to the Priesthood in the Apostolic Johannite Church on April 7, 2007, he is currently the Rector of Rose Cross Community in Portland, OR, Prefect for the Congregation for Liturgical Rites and a member of the Apostolic Council.
Monsignor Jordan Stratford

Msgr. Stratford serves as the Chaplain for Salis Chapel, Salt Spring Island, British Columbia, where he writes children's books and is a volunteer First Aid instructor in the community.
A father of four and devoted husband of Zandra, Msgr. Stratford was ordained to the Priesthood in the Apostolic Johannite Church in 2005. In 2006, he was elevated to Apostolic Prefect and has served previously as the AJC's Apostolic Administrator for British Columbia.
A Martinist, Mason and amateur antiquarian, he is the author of Living Gnosticism (Apocryphile Press) and A Dictionary of Western Alchemy (Quest Books).
The Rev. Deacon Jason Campbell
Jason Htet Campbell grew up in Burma (officially Myanmar) in a Theravadin Buddhist household. After wandering around and learning about different forms of philosophy and religious thought during his teenage years, he found a home at the Apostolic Johannite Church in 2011.
In 2010, he moved to the Pacific Northwest to receive a degree in Economics at a small liberal arts college. He is now working in an economic development organization in Portland.
He currently leads Rose Cross Community in Portland, Oregon as an ordained Deacon. He is working to create a vibrant, active, and fun community in the Portland area
Prior Mark Donato, OTSJ
Brother Mark Donato is an oblate and Prior in the Order of the Temple and Saint John.  Raised in the Episcopal Church and Jungian psychology, he went on to study and practice Santeria briefly and then both Tibetan Buddhism and Thai Theravada Buddhism for twenty years. Mark found Gnosticism and the AJC in the course of finding a home for his experience and practice within the context of the western tradition he grew up in.  He is excited to practice a contemplative, lay monasticism in the Johannite tradition. Mark is a Martinist and a parishioner of St. Mary Magdalene AJC Church in Denver, Colorado. 
Mark is a school teacher and sculptor and lives with his wife and daughter and two small dogs. He enjoys teaching and making things with kids, and talking and joking late into the night with his family. 
The Rev. Mr. Jonathan Stewart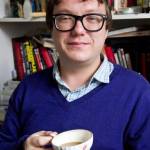 Jonathan Stewart is a Montreal based writer and editor, originally from Canada's East Coast. He grew up on Prince Edward Island and attended university in Halifax, Nova Scotia, and moved to La Belle Province in 2006. After four years of writing 9-5 in a corporate environment he's now working in the terrifying land of freelancing.
He's long had a passion for all things Gnostic, esoteric, and mystical, some of this started with him reading Phillip K. Dick when he was 12 and moving straight onto the Nag Hammadi Library when he was way too young to understand any of it. He came across the AJC in 2011 and has been in love with the welcoming and supportive Johannite community ever since. Meditation is a particular interest of Jonathan's and he's been meditating in both Buddhist and Christian traditions since he was a teen–this has come in handy as he married a Buddhist and is happy to have common ground in his interfaith marriage. He's also a Martinist having joined the Ordre Martiniste Opératif Au Québec in 2011. His other interests include theatre, playing in indie rock bands, playing with his cat, and (even though he spent his 20s promising himself he'd never get into it) yoga.
Schedule is subject to change
Thursday, May 17th, 2018
3pm

Meet and Greet

5pm

Johannite Liturgy

:

Theocletian Rite

with the Primate of the United States

6pm

Inaugural Dinner
Friday, May 18th, 2018
9:00am The Friary and the Apostolic Johannite Church with Monsignor Scott Rassbach


10:30am

Magic and the Liturgy with the Primate of the United States

12:00pm

Lunch

1:30pm

The Cathars

with Stephen O'Shea

3:00pm

The Demiurge in the Gospel of John

with the Rev. Mr. Jonathan Stewart

4:30pm Gnosticism in the Far East

with Rev. Deacon Jason Campbell

6:00pm

Dinner
Saturday, May 19th, 2018
9:00am –

The Sacrament of Confirmation in the AJC

with the Primate of the United States

10:30am –

The Divine Feminine

with M Isidora Forrest

12:00pm –

Lunch

1:30pm –

Pontifical Mass and Ordinations

with the Sovereign Pontiff and Patriarch of the Apostolic Johannite Church

6:00pm –

Dinner

(Excursion, Restaurant, Own Cost)
Sunday, May 20th, 2018
1:30pm –

Rituals of Warding with

 Monsignor Scott Rassbach

3:00pm –

Shem Ha-Mephorasch

with Fr. Joseph Wolf

4:30pm – TBA

6:00pm –

Dinner
Monday, May 21st, 2018
9:00am A Chicken's Guide to the Kabbalah with Monsignor Scott Rassbach

10:30am Contemplative Practice and the Oblates of St. John

with Prior Mark Donato

12:00pm

Lunch

1:30pm

Divine Guidance: The Practice of Diviniation

 with Msgr. Scott Rassbach

3:00pm Enochian Magic with Benjamin Pierce

4:00pm St. Cyprian the Mage with Msgr Jordan Stratford

5:00pm

Annual General Meeting of the Apostolic Johannite Church

6:00pm

Dinner
Tuesday, May 22nd, 2018
9:00am

The Johannite Gnostic Mass with Msgr. Scott Rassbach

10:30am The Order of the Temple and Saint John II: Templarism in the AJC with the Sovereign Pontiff and Patriarch

12:00pm

Lunch

1:30pm

Closing of Conclave 2018
Costs and Registration
Lodging is not included and is the responsibility of the attendee.
Please contact [email protected] to indicate any food allergies you may have. If you are registering for the weekend or for individual days, please contact us and let us know when you would like to attend

Full Conclave Registration
Individual- Full Registraton: $500

Couple- Full Registration: $800

Full Registration includes All Activities and Eight Meals
Thursday: Dinner
Friday: All Activities, Lunch and Dinner
Saturday: All Activities and Lunch.  Dinner excursion at own cost
Sunday: All Lectures, Workshops, and Dinner
Monday: All Activities, Lunch and Dinner
Tuesday: All Activities, Lunch
Three-Day Package
Individual Weekend Registration: $250

Couple Weekend Registration $375

Friday: All Activities, Lunch and Dinner
Saturday: All Activities and Lunch.  Dinner excursion at own cost
Sunday: All Lectures, Workshops, and Dinner
or
Saturday: All Activities and Lunch.  Dinner excursion at own cost
Sunday: All Lectures, Workshops, and Dinner
Monday: All Activities, Lunch and Supper
Individual Per Day Registration
$100 – Includes activities and scheduled meals for specified day excepting Saturday Dinner
Refund Policy
From Now until April 1st- 100% Refund
April 2nd to May 1st- 50% Refund
After May 2nd- No Refund will be issued
Registration closes May 2nd