The Apostolic Johannite Church is proud to present the twentieth annual AJC Conclave – May 16th – May 21st in Montreal, Quebec.
Each year the people of the AJC, friends and family gather together to socialize, learn, build our skills and deepen our community. It is an amazing opportunity for spiritual growth and insight to modern Gnostic practice. Conclave offers lectures, workshops and panel discussions selected to develop ministry skills, support the work of church leaders both lay and ordained and deepen and enrich the spiritual lives of attendees.
Conclave is also rich in social time, time to eat, talk, pray and practice together. It's like a retreat and a conference all rolled into one.
As always, we welcome you, no matter who you are or what your spiritual path, to join us for this unique week. You can come for all or part and participate as much or as little as you'd like. However you choose, we welcome you into our household.
Keynote Speaker: Dr. Celene Lillie
The Apostolic Johannite Church is excited to welcome and present Dr. Celene Lillie as our Keynote and Dr. Juliana Eimer Memorial Lecture presenter which will be delivered as one lecture.  She will be presenting on The Thunder,  Perfect Mind
Celene Lillie (Ph.D., Union Theological Seminary) is the Director of Adult Education and Spiritual Formation at First United Methodist Church in Boulder, Colorado, and an adjunct professor at the University of Colorado Boulder.  She is the author of The Rape of Eve: The Transformation of Roman Ideology in Three Early Christian Retellings of Genesis, the director of translations for A New New Testament, and a co-author of The Thunder Perfect Mind: A New Translation and Introduction. (via the Westar Institute)

Dr. David Goodin
David K. Goodin earned a PhD in Religious Studies from McGill University in the philosophy of religion, with a secondary area of concentration in Patristic theology.
Currently, he is a lecturer for the McGill School of Religious Studies in Montreal, Canada, Professeur Associé at the Université Laval, Institut de Théologie Orthodoxe de Montréal, and an instructor for the Pappas Patristic Institute at the Holy Cross Greek Orthodox School of Theology in Brookline, Massachusetts.  David K. Goodin is originally from Miami, Florida, and now currently resides and teaches in Montreal, Quebec, Canada.

Dr. Andre Gagne
Dr. André Gagné is a tenured Associate Professor and Graduate Program Director in the Department of Theological Studies at Concordia University. He is also a research associate with the Centre d'expertise de formation sur les intégrismes religieux, les idéologies politiques et la radicalisation (CEFIR), and with the Center for Research on Religion (CREOR), as well as a Digital Fellow at the Montreal Institute for Genocide and Human Rights Studies (MIGS). In 2017, Dr. Gagné was Directeur d'études invité à l'École pratique des hautes études in Paris for his work on the Gospel According to Thomas.
His teaching and research focuses on the Christian Right, fundamentalism, religious violence and the interpretation and reception of the Bible. In his public scholarship, Dr. Gagné seeks to explain how sacred texts and traditions are used by fundamentalist groups and individuals to cultivate violent ideas and/ or incite politico-religious violence. He also has a marked interest in studying the beliefs, practices and political inclinations of dominionist movements such as the New Apostolic Reformation (NAR) and Christian Reconstructionism.
Amy Torok
Amy Torok is a creative force. A fearlessly experimental andoutspoken artist, writer and filmmaker who has created visual art, video and projections for dozens of Montreal acts.
A musician and performer in her own right, Amy has graced stages across the city as singer, DJ, performance artist, puppeteer and multi-instrumentalist. Having earned a BA in Literature and post graduate diploma in journalism from Concordia University, she now lives in the woods, honing her skills as a producer and sound engineer inside the studio she built. Her latest project, the Missing Witches Podcast, has allowed her to combine all of these skills under one heading: Witch.

His Eminence, the Patriarch of the Apostolic Johannite Church
Originally consecrated on December 22nd, 2002 as Bishop of Alberta, Iohannes IV (Shaun McCann) was shortly thereafter elevated to Patriarch and Primate of the Apostolic Johannite Church and has served faithfully in that role since July 23rd, 2003.
Since that time, Iohannes IV has led the Church through over a decade of growth and development, expanding the Johannite Church to numerous centres in five countries, writing the All Saints Accord, overseeing the translation and publication of the Levitikon: The Gospels according to the Primitive Church, and sending representation to the Parliament of the World's Religions, as well as directing the formation of numerous clerics and lay leaders, and presiding over a decade of Conclaves, the annual gathering of Johannites from around the world.
 
His Grace, Dr. William Behun, Primate of the United States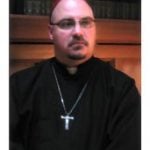 His Grace Dr. William Behun is Archbishop of Wisconsin and Primate for the United States of America for the Apostolic Johannite Church.  He received his Ph.D. in philosophy from De Paul University, and is the author of The Historical Pivot:  Philosophy of History in Hegel, Schelling, and Hölderlin as well as articles on a wide range of philosophical topics. 
In addition to his duties within the AJC, His Grace also teaches philosophy in the Chicago area, specializing in Ethics and the History of Philosophy.   Most recently his article "The Apocalypticism of Joachim of Fiore and the Western Mystery Tradition" appeared in the Journal of the Western Mystery Tradition
 
His Excellency, Dr. Tim Mansfield, Bishop of New South Wales 
Tim Mansfield was ordained a priest by the Patriarch of the Apostolic Johannite Church in May 2008 and a bishop in May 2012. He serves as rector of the parish of Saint Uriel the Archangel and bishop of the diocese of New South Wales. In 2018, he created and opened Johannite School, an online "alpha" course for Johannites, distant or local, to learn about the church prior to Baptism, Confirmation or Reception. 
Bishop Tim lives in the suburbs of Sydney with his long-term partner Min. He works as a researcher in futures studies.
He understands his role to be partly that of a spiritual coach and advocate, rather than as a teacher. The spiritual journey is a personal one, but clergy can play a role in helping the seeker to notice blind spots and avoidances and to find resources and assistance and in simply cheering from the sidelines. He sees regular spiritual practice as an essential part of spiritual life. 
The Very Rev. Anthony Silvia
Fr. Anthony Silvia is an experienced nonprofit administrator, and a lover of the esoteric and the arcane and has been successful in growing the Johannite Church wherever he has been. He is a Martinist, a Freemason, and a member of The Friary/Order of the Sacred Flame and has studied esoteric orders and their works for many years.
He is also the author of Sanctuary of the Sacred Flame, a guide to Johannite Practice, and the Director of the Gnostic Wisdom Network, which produces the popular Gnostic video and audio podcast, Talk Gnosis.
The Rev. Father Joseph McCauslin
Father Joseph McCauslin is the parish priest for St. Eve's Apostolic Johannite Church, servicing the greater Harrisburg area in Pennsylvania.  With a degree in Accounting and over a decade of experience in educational technology, Father McCauslin  has worked his entire career assisting local public school districts in advancing classrooms forward into the 21st century through technology and progressive methods of learning.
Under Father McCauslin's guidance, St. Eve's has become a center for Gnostic spirituality, education and community.  Father McCauslin also works on numerous ecumenical projects in the Central PA area.  Working with local, independent Christian and Pagan-based organizations, Father McCauslin works to provide a greater religious alternative in his local and surrounding communities.
 
The Rev. Deacon Jason Campbell
Jason Htet Campbell grew up in Burma (officially Myanmar) in a Theravadin Buddhist household. After wandering around and learning about different forms of philosophy and religious thought during his teenage years, he found a home at the Apostolic Johannite Church in 2011. In 2010, he moved to the Pacific Northwest to receive a degree in Economics at a small liberal arts college. He is now working in an economic development organization in Portland. He currently leads Rose Cross Community in Portland, Oregon as an ordained Deacon. He is working to create a vibrant, active, and fun community in the Portland area
The Rev. Mrs. Christina Rockey
Christina Rockey is interested in building bridges. She aspires both to demystify the language surrounding spiritual concerns and to revive some mystery forgone in psychological ones. She believes careful examination of the physical experience can shed new light on old topics. She believes careful listening to the female experience can shed old light on new eyes.
In addition to being a seminarian, Christina is a writer, registered yoga teacher, and sales tax analyst. She received her MFA from the University of Baltimore in Creative Writing and Publishing Arts, focusing in fiction, and her BA in Anthropology from West Chester University. She is passionate about service and education. She currently lives with her husband, twin toddlers, and cat in the Harrisburg area where she is a member of St. Eve's parish.
The Rev. Mr. Clark Aitkins
Clark Aitkins is an army brat as well as a child of dairy farms and trailer parks. Not content with following his old man around the country, he enlisted himself after high school as an Airborne Infantryman and kept wandering.
After dropping out of college his first go around, he met a Gnostic Bishop in the back pool room of a smoky basement bar in the middle of Penn's Woods and his life changed from weird to really effing weird.
He dragged his strangeness back to school and ended up with a Master's degree in New Testament and Early Christianity from Harvard Divinity School, thereby changing his life yet again from really effing weird to purveyor of the weirdness and spewer if divergent politics. You're just gonna have deal with it.
Schedule is subject to change
Thursday, May 16th, 2019
3pm

Meet and Greet

5pm

Johannite Gnostic Mass

 with the Patriarch of the Apostolic Johannite Church

6pm

Inaugural Dinner
Friday, May 17th, 2019
9:00am

Divine Feminine in the Gospel of John with Dr. David Goodin


10:30am

Divine Feminine in Secret John with the Very Rev. Tony Silvia

12:00pm

Lunch

1:30pm

The Great Lady in Temple Theology

with the Bishop of New South Wales

3:00pm

The Incarnation and the Divine Mother

 with the Rev. Mrs. Christina Rockey

4:30pm Feminine Figures in Gnostic and Buddhist Scripture

with Rev. Deacon Jason Campbell

6:00pm

Dinner
Saturday, May 18th, 2019
9:00am –

Johannite Gnostic Mass of Ordination

 with the Patriarch of the Apostolic Johannite Church

12:00pm – Lunch

1:30pm –

 Thunder Perfect Mind – with Dr. Celene Lillie

3:30pm 

–

 TBD – 

with the Primate of the United States

6:00pm –

Dinner

(Excursion, Restaurant, Own Cost)
Sunday, May 19th, 2019
1:30pm – 

Missing Witches with 

Risa Dickens and Amy Torok

3:00pm – Mirth and Reverence: The Spirituality of Comedy and Joyful Living

 with Fr. Joseph McCauslin

4:30pm – The Gospel of Mary with Clark Aitkins


6:00pm –

Dinner
Monday, May 20th, 2019
9am

 Bishops Panel Discussion

 with The Hierarchy of the AJC

12:00pm

Lunch

1:30pm

The Sacrament of Matrimony

 with the Primate of the United States

3:00pm Centering Prayer for Gnostics with the Bishop of New South Wales
4:00pm How to interpret the Gospel of Thomas with Dr. Andre Gagne
6:00pm Dinner
Tuesday, May 21st, 2019
9:00am

The Johannite Gnostic Mass

 

12:00pm

Lunch

1:30pm

Closing of Conclave 2019
When registering, please email [email protected] to indicate if you have any food allergies. If you are registering for a weekend or individual day, please contact us to indicate which day set or individual days you are registering for. 
Costs and Registration
Lodging is not included and is the responsibility of the attendee.
Full Event Registration 
Individual- January 1st to April 1st: Early Bird: $500
After April 1st: $525
Couple- January 1st to April 1st: Early Bird: $900
After April 1st: $950
Full Registration includes All Activities and Eight Meals:
Thursday: Dinner
Friday: All Activities, Lunch and Dinner
Saturday: All Activities and Lunch.  Dinner excursion at own cost
Sunday: All Lectures, Workshops, and Dinner
Monday: All Activities, Lunch and Dinner
Tuesday: All Activities, Lunch

Weekend Package
Individual- January 1st to April 1st: Early Bird: $250
After April 1st: $300
Couple- January 1st to April 1st: Early Bird: $450
After April 1st: $500
Friday: All Activities, Lunch and Dinner
Saturday: All Activities and Lunch.  Dinner excursion at own cost
Sunday: All Lectures, Workshops, and Dinner
or
Saturday: All Activities and Lunch.  Dinner excursion at own cost
Sunday: All Lectures, Workshops, and Dinner
Monday: All Activities, Lunch and Supper
$125 Individual Per Day Registration
(Includes activities and scheduled meals excepting Saturday Dinner)
Refund Policy
From Now until April 1st- 100% Refund
April 2nd to May 1st- 50% Refund
After May 2nd- No Refund will be issued
Registration closes May 2nd